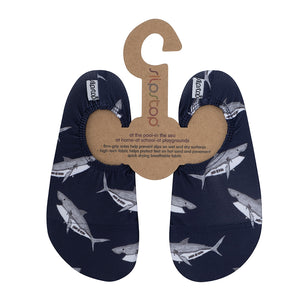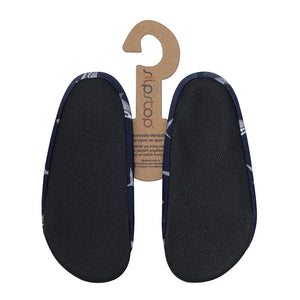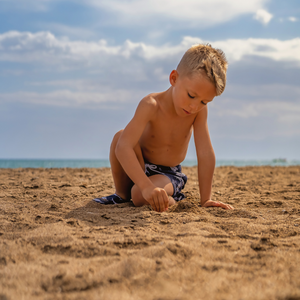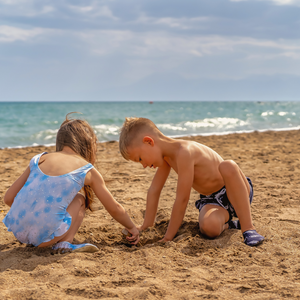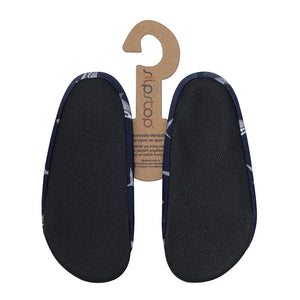 Chausson enfant SLIPSTOP® Berko Navy Jr.
Chausson enfant SLIPSTOP® Berko Navy Jr. - Requins sur fond marine 
Parfaits pour les jeux d'eau et les cours de natation, les chaussures SLIPSTOP® Berko Navy Jr. à motifs de petits requins sur fond marine, offrent un facteur de protection contre les rayons UV de 50+ en plus d'être munis d'une semelle antidérapante.
Léger, confortable et amusant à porter, ce chausson est fait d'un doux tissu extensible à séchage rapide conçu spécialement pour la baignade.
Les chaussures de plage SLIPSTOP® Berko Navy Jr. protègent les pieds de vos tout petits sur la chaussée et le sable chaud ainsi qu'au contact de petits objets pointus ou de petits coquillages en mer et en eaux douces.
Vos petits poissons feront des vagues dans ces chaussures d'eau également disponible en taille adulte!
UPF 50+

Légers • Flexibles
91% polyamide 9% élasthanne
Faciles à enfiler
Coutures plates qui limitent la friction & les irritations

Pointes renforcées
Kids SLIPSTOP® water shoes Berko Navy Jr. - Sharks on a navy background
Be the king of the ocean with SLIPSTOP® Berko Navy Jr. water shoes for kids.
White friendly sharks swimming across a navy blue background creates the perfect beach ready look.
SLIPSTOP® Berko Navy Jr. are versatile, lightweight and offer great sun protection thanks to their certified UPF 50+ breathable fabric.
Their non-slip and resistant sole help prevent slips on wet and dry surfaces as well as protect feet from hot pavement and sand.
Crafted in a quick-drying fabric, SLIPSTOP® Berko Navy Jr. water shoes are super easy to swim in.
Multi purpose shoes

Designed for all ages
91% polyamide 9% elastane
Easy to put on
Tailored with flat seams that limit friction and irritation
Reinforced toes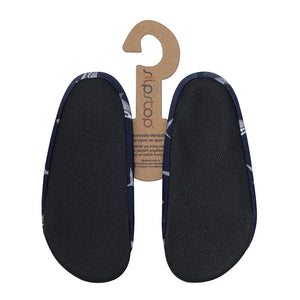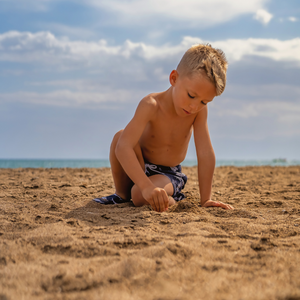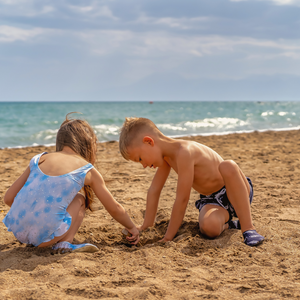 My son loves them
These shoes have been excellent for playing out in our backyard.