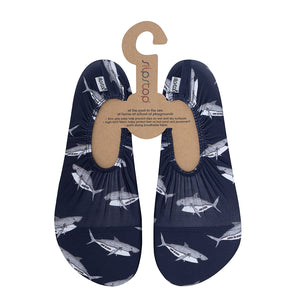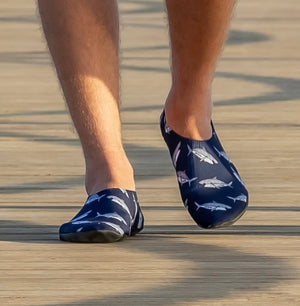 Chausson adulte SLIPSTOP® Berko Navy
Chausson adulte SLIPSTOP® Berko Navy  - Requins sur fond marine
Les chaussons d'eau SLIPSTOP® Berko Navy à motifs de requins sur fond marine sont munis d'une semelle antidérapante qui protège à la fois des microbes et aide à prévenir les risques de glissades sur les surfaces mouillées.
Ultra légères et passe-partout, les chaussures aquatiques SLIPSTOP® Berko Navy sont taillées dans un tissu certifié UPF 50+ qui sèche rapidement.
Les chaussures de plage SLIPSTOP® Berko Navy sont tout simplement parfaites et indispensables pour vos prochaines vacances cette saison.
Faites le choix de vous adonner au plaisir du twinning! Cet imprimé est également disponible en taille enfant.
Pointes renforcées

Tissu respirant à séchage rapide
Coutures plates qui limitent la friction & les irritations
91% polyamide 9%elastane
Faciles à enfiler
Adult SLIPSTOP® shoes Berko Navy - Sharks on navy background
SLIPSTOP® Berko Navy water shoes for adults in navy are perfect for all your water activities.
SLIPSTOP® Berko's lightweight and comfortable UPF 50+ protection fabric make these shoes very easy to swim in and handy for travel.
Their non-slip soles will help prevent slips on both wet and dry floors as well as protect your feet from hot surfaces and germs.
Because twinning is always fun... why not stay safe and stylish together in matching Berko Navy SLIPSTOP® shoes for kids?
Multi purpose footwear
Flexible sole
91% polyamide 9% elastane
Tailored with flat seams that limit friction and irritation
Reinforced toes