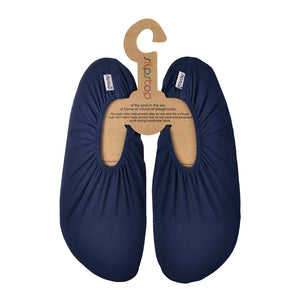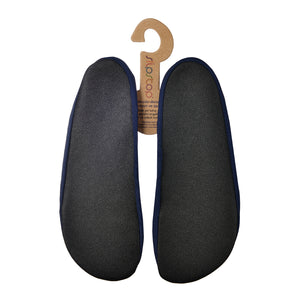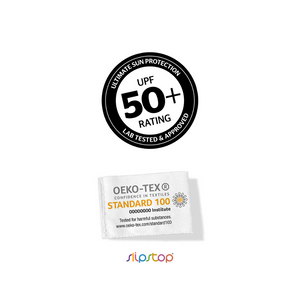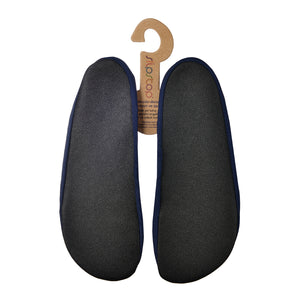 Chausson adulte SLIPSTOP® Navy
Chausson adulte SLIPSTOP® Navy - Marine uni
Vous aimez la sensation de liberté ressentie en marchand nus pieds? Ne cherchez plus. Les chaussons souples SLIPSTOP® Marine vous promettent le même effet!
À la fois anti-dérapants et légers, ils se portent aussi bien à l'intérieur comme à l'extérieur. Les chaussons SLIPSTOP® protègent les pieds des éléments extérieurs et des microbes à la maison ainsi qu'en voyage ou en camping.
Avec leur indice de protection maximale certifié UPF 50+, ils deviendront les meilleurs alliés de toutes vos activités de plein air.
Tissu respirant à séchage rapide
Faciles à enfiler

91% polyamide 9% elastane
Coutures plates qui limitent la friction & les irritations
Pointes renforcées
Adult SLIPSTOP® shoes Navy - Solid 
SLIPSTOP® Navy non-slip shoes are the next best thing to walking barefoot. 
Light and flexible, they are designed for all ages and can be worn indoors and outdoors. SLIPSTOP® solid Navy shoes are a great choice for protecting your feet from sharp objects and infection at home, the garden, at the cottage and while camping.

Their sun safe UPF 50+ protection is both perfect and practical for hours of outdoor play!

Quick-drying • Breathable fabric
Multi purpose

91% polyamide 9% elastane
Tailored with flat seams that limit friction and irritation
Reinforced toes