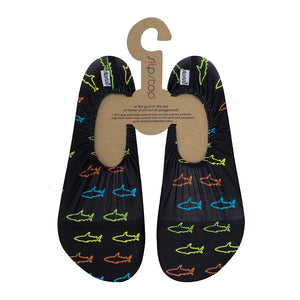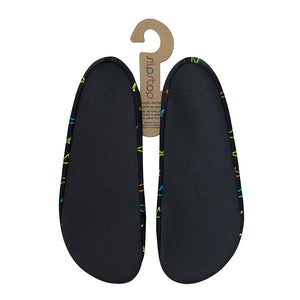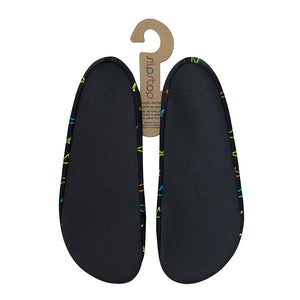 Chausson adulte SLIPSTOP® Neon Sharks
Chausson adulte SLIPSTOP® Neon Sharks - Requins multicolores fluorescents sur fond noir
Les chaussures d'eau SLIPSTOP® Neon Sharks à motifs de requins fluorescents sur fond noir se déclinent également en tailles pour adultes.
Elles sont composées sur le dessus d'un tissu certifié UPF 50+ à la fois extensible, ultra léger, indéformable, respirant et qui sèche rapidement.
Leurs semelles flexibles sont aussi antidérapantes et protègent vos pieds du sable chaud, des coquillages et des galets lors de vos sorties estivales.
Cet imprimé est également disponible en taille enfant. 
Chaussons polyvalents
UPF 50+
91% polyamide 9%elastane
Coutures plates qui limitent la friction & les irritations
Pointes renforcées
Adult SLIPSTOP® water shoes Neon Sharks - Colorful neon sharks on black background
Have some grown-up fun with SLIPSTOP® Neon Sharks water shoes for adults.
SLIPSTOP® Neon Sharks are crafted in a stretchy, quick-drying fabric with a sun protection factor of 50+.
They feature a slip resistant sole and are easy to pull on and off. Simply perfect for days spent in and around the beach or the pool.
SLIPSTOP® Neon Sharks are both comfortable and functional. They will protect your feet from germs, sharp objects, hot surfaces and will help prevent slips on wet end dry floors.
The more the merrier! Match your little one and adventure together in your favorite SLIPSTOP® Neon Sharks water shoes!
Multi purpose footwear
Flexible sole
91% polyamide 9% elastane
Tailored with flat seams that limit friction and irritation
Reinforced toes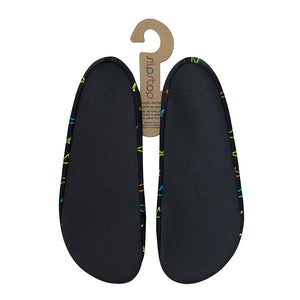 Superbe produit
C'est vraiment antidérapant. Le plus est le peu de place et de poids que ça occupe. Tellement mince et légers qu'ils ne surchargeront pas vos valides. Un must à avoir!
Le 43 (13) pour homme est peut-être un peu juste.
On aimerait encore plus de prints amusants, même pour adulte!