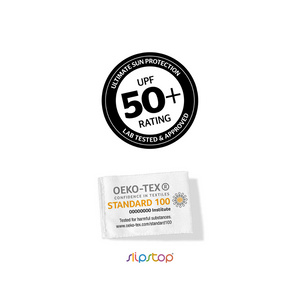 Chausson adulte SLIPSTOP® Tropic
Chausson adulte SLIPSTOP® Tropic - Palmiers tropicaux colorés
Protégez vos pieds lorsque vous marchez dans les eaux rocheuses et boueuses ou lorsque vous nagez, grâce à la chaussure d'eau SLIPSTOP® Tropic et ces semelles à la fois antidérapantes et résistantes.
Fabriqués en tissu ultra léger à protection solaire certifié UPF 50+, les chaussons de plage SLIPSTOP® Tropic sont parfaits pour les journées ensoleillées à la plage, la piscine ou le spa.
Pourquoi ne pas assortir vos chaussons à ceux de votre enfant? Ce joli imprimé tropical est également disponible en tailles pour enfants.
Tissu respirant à séchage rapide
UPF 50+
91% polyamide 9%elastane
Coutures plates qui limitent la friction & les irritations
Pointes renforcées
Adult SLIPSTOP® water shoes Tropic - Colorful tropical palm trees
Have some grown-up fun with SLIPSTOP® Tropic water shoes for adults tailored in a bright tropical palm tree print.
They can easily be rolled up tight so you can slip them into your suitcase or gym bag.
SLIPSTOP® Tropic shoes are perfect to wear in the changing room or shower at the pool, the gym or on vacation.
They will protect your feet on hot sand and pavement as well as wet and slippery surfaces.
Play safe together in matching  SLIPSTOP® Tropic print available in kid's sizing!
Multi purpose footwear
Flexible sole
91% polyamide 9% elastane
Tailored with flat seams that limit friction and irritation
Reinforced toes