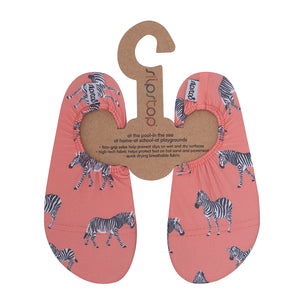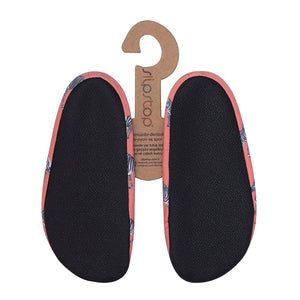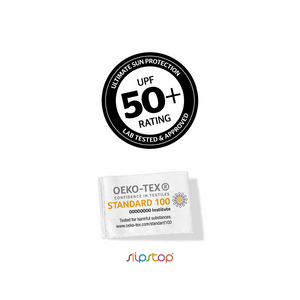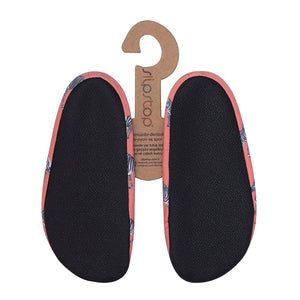 Chausson enfant SLIPSTOP® Zebra
Chausson enfant SLIPSTOP® Zebra - Zèbres sur fond corail
Faciles à enfiler, les chaussons SLIPSTOP® Zebra à motifs de petits zèbres sur fond corail pour enfants sont munis d'une semelle souple et antidérapante.
Parfaite pour apprendre à se tenir debout ou pour faire ses premiers pas, la chaussure SLIPSTOP® Zebra est facile à enfiler et favorise l'autonomie de vos tout petits avec son ouverture élastique à la cheville.
Douce, confortable et ultra légère, elle offre une liberté de mouvement à votre enfant comme s'il était pieds nus.
En plus de favoriser l'apprentissage de la marche, celle-ci permet d'être en contact direct avec le sol et de développer leur équilibre plus facilement et en toute sécurité.
UPF 50+

Légers • Flexibles
91% polyamide 9% élasthanne
Faciles à enfiler
Coutures plates qui limitent la friction & les irritations

Pointes renforcées
Kids SLIPSTOP® water shoes Zebra - Zebra print on a coral background
Take a step on the wild side with these super cute lightweight and comfortable  SLIPSTOP® Zebra print water shoes.
Whether poolside or at the beach, your little explorer will enjoy roaming freely in his non-slip, sun-safe shoes.
SLIPSTOP® Zebra's reinforced toes will help protect their precious toes from sharp objects and rough surfaces.
Make the sunny season one to remember with SLIPSTOP® Zebra beach shoes for kids.
A summer must-have!
UPF 50+
Designed for all ages
91% polyamide 9% elastane
Easy to put on
Tailored with flat seams that limit friction and irritation
Non-slip soles