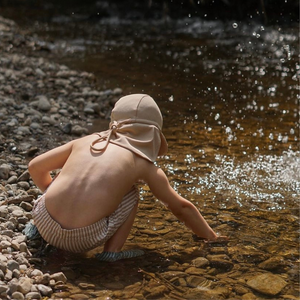 Chausson enfant SLIPSTOP® Sage Stripes
Chausson enfant SLIPSTOP® Sage Stripes - Délicates rayures blanches sur fond vert sauge
Conçus pour bébés et les enfants de tous âges, les chaussures SLIPSTOP® Sage Stripes aident à prévenir les chutes sur les surfaces mouillées grâce à leurs semelles anti-dérapantes et résistantes.
Indispensables pour s'amuser en toute sécurité au bord de la piscine, le bain ou la douche, ils sont confortables à porter et faciles à enfiler.
Extensibles, les chaussons SLIPSTOP® pour enfants Sage Stripes conservent leur forme lorsque mouillés et offrent une protection solaire efficace grâce à leur tissu certifié UPF 50+.
Ils sont à la fois légers et confortables, ce qui permet aux enfants de se déplacer librement et de s'amuser en toute sécurité.
Chaussons à usages multiples
Tissu respirant à séchage rapide
Légers . Flexibles 
91% polyamide 9% élasthanne 
Coutures plates qui limitent la friction & les irritations
Pointes renforcées
Kids SLIPSTOP® water shoes Sage Stripes - Soft white stripes on a sage green background
Make a splash and stripe-up the beach this season with SLIPSTOP® Sage Stripes water shoes for kids!
They feature a soft and fresh white stripes pattern on a sage green background.
SLIPSTOP® Sage Stripes shoes are non-slip, have UPF 50+ sun protection, are lightweight, quick-drying, breathable and have reinforced toes to protect your child's little toes.
They are suitable for any water activity and a vacation must-have for the entire family.
SLIPSTOP® Sage Stripes soles are designed to protect your child's feet from hot sand, pavement as well as pebbles and seashells while they play.
Your child will love the comfort and fun of these beach shoes!
Quick-drying . Breathable fabric
Light . Flexible . Comfortable
91% polyamide 9% elastane
Easy to put on
Tailored with flat seams that limit friction and irritation
Reinforced toes