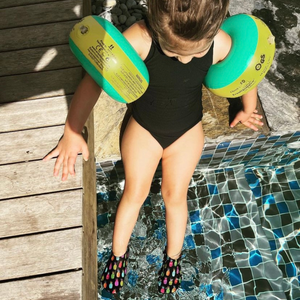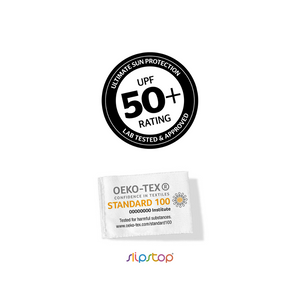 Chausson enfant SLIPSTOP® Cocktail Jr.
Chausson enfant SLIPSTOP® Cocktail Jr. - Ananas noir
Les chaussures aquatiques pour enfants SLIPSTOP® Cocktail Jr. à motif ananas colorés protègent à la fois les pieds de vos tout petits contre les microbes et les rayons du soleil avec son tissu certifié UPF 50+.
Munis d'une semelle antidérapante, elles assurent une excellente adhérence et aide à prévenir les glissades sur les sols mouillés.
Idéals pour prévenir les verrues plantaires dans les jeux d'eau à la garderie, les douches publiques et aux abords des piscines, les chaussons d'eau SLIPSTOP® Cocktail Jr. sont faciles à enfiler grâce à leurs chevilles élastiques.
Cet imprimé est également disponible en taille adulte. Votre enfant aura donc le bonheur d'être chaussé comme sa maman!
Chaussons à usages multiples
Tissu respirant à séchage rapide
Légers . Flexibles . Confortables
91% polyamide 9%elastane
Coutures plates qui limitent la friction & les irritations
Pointes renforcées
**Cet article est en vente finale**

Kids SLIPSTOP® water shoes Cocktail Jr. - Pineapple black
Add a pop of color to your Summer with SLIPSTOP® Cocktail Jr. for kids featuring a colorful all-over pineapple print.
These fun-to-wear non-slip water shoes will protect your feet on hot sand at the beach and slippery surfaces around the pool. 
SLIPSTOP® Cocktail Jr. reinforced toes will protect your little one's feet from sharp objects and rough surfaces while allowing them to swim freely with a comfortable barefoot feeling.
What do you say we make matching a thing this season? 
SLIPSTOP® Cocktail print is also available in adult sizes!
Multi purpose footwear
Quick-drying . Breathable fabric
Designed for all ages
91% polyamide 9% elastane
Easy to put on
Tailored with flat seams that limit friction and irritation
**This is a final sale item**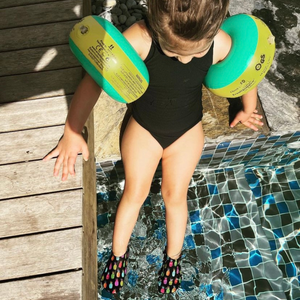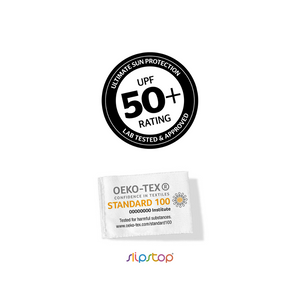 Chausson enfant SLIPSTOP® Cocktail Jr.
Chausson enfant SLIPSTOP® Cocktail Jr.
My favorite!
This is the second time I buy these for my kids, first time through the company itself. Amazing customer service! These socks are an absolute must-have and have become a staple in our home. We just can't live without these anymore! Great quality product and so we are able to pass them down as the bigger kids outgrow them. I'm a huge fan!