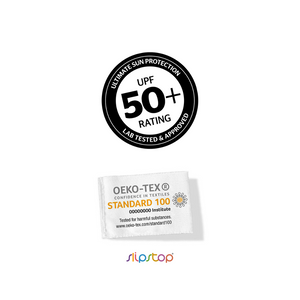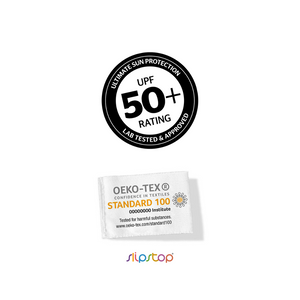 Chausson enfant SLIPSTOP® Texas Dinos
Chausson enfant SLIPSTOP® Texas Dinos - Dinosaures fluorescents sur fond bleu sarcelle 
Faites découvrir les joies de la pataugeoire et des jeux d'eau à vos tout petits avec aux pieds les chaussures aquatiques SLIPSTOP® Texas Dinos à motif de dinosaures fluorescents.
Leurs semelles sont à la fois résistantes et antidérapantes. Elles sont parfaites pour protéger les pieds des bactéries, des surfaces chaudes et prévenir les chutes sur les sols mouillés.
Les chaussons de piscine SLIPSTOP® Texas Dinos offrent une protection solaire maximale certifié UPF 50+.
Faciles à enfiler et confortables à porter, ils sont munis de coutures plates et de pointes renforcées qui assurent une protection adéquate des petits orteils sur des surfaces dures comme le béton, le ciment et la chaussée. 
Chaussons polyvalents
Semelles adhérentes & résistantes au glissement
Tissu respirant à séchage rapide
Légers . Flexibles . Confortables
Conçus pour tous les âges
91% polyamide 9% élasthanne
Kids SLIPSTOP® water shoes Texas Dinos - Neon dinosaurs on a teal blue background
SLIPSTOP® Texas Dinos water shoes for kids feature a stylish print of neon colored dinosaurs on a teal blue background.
Perfect for daycare, playdays in the backyard and summer days spent at the beach, lake or pool.
SLIPSTOP® Texas Dinos shoes will protect your little one's feet on hot sand and pavement as well as germs and rough surfaces.
No more splinters and burning feet from playing on the deck thanks to their durable and flexible soles.
Guaranteed non-slip sun safe fun all day long!
Quick-drying . Breathable fabric
Light . Flexible . Comfortable
91% polyamide 9% elastane
Easy to put on
Tailored with flat seams that limit friction and irritation
Reinforced toes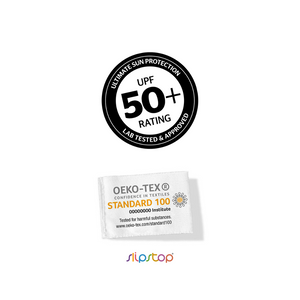 Chausson enfant SLIPSTOP® Texas Dinos