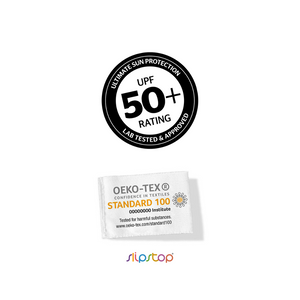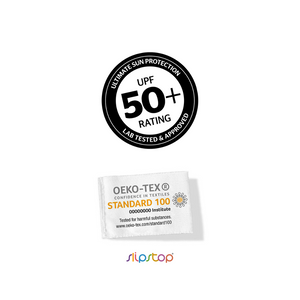 Chausson enfant SLIPSTOP® Grey Polka Dots
Chausson enfant SLIPSTOP® Grey Polka Dots - Petits pois blancs sur fond gris
Dans l'eau comme sur les surfaces chaudes et glissantes, les chaussures d'eau SLIPSTOP® Grey Polka Dots sont composées d'une semelle anti-dérapante qui protège les pieds et aide à prévenir les chutes sur les surfaces mouillées.
Également disponibles en taille adulte, les chaussons SLIPSTOP® Grey Polka Dots pour enfants, nous font rêver à l'été avec leur joli motif de petits pois blancs. 

Conçus pour s'enfiler facilement, ils favorisent l'autonomie des tout petits tout en leur permettant de jouer en toute sécurité.
Ils sont indispensables pour les vacances au bord de l'eau!

UPF 50+
Tissu respirant à séchage rapide
Légers • Flexibles
91% polyamide 9% élasthanne
Coutures plates qui limitent la friction & les irritations
Pointes renforcées
Kids SLIPSTOP® water shoes Grey Polka Dots - White polka dots on a grey background
Dot the i's and cross the t's this season with SLIPSTOP® Grey Polka Dots water shoes for kids.
SLIPSTOP® shoes are designed with safety and convenience in mind. These beach shoes feature a neutral white polka dots print.
The are made with a non-slip sole and provide excellent traction on wet and dry surfaces, making them a great choice for use in and around water.
SLIPSTOP® Grey Polka Dots are both lightweight and quick-drying, making them easy to wear and care for.
They are water-friendly, versatile and a must-have for any vacation, whether at the beach, pool or lake.
Light 

• 

Flexible 

• 

Comfortable
Designed for all ages
91% polyamide 9% elastane
Easy to put on
Tailored with flat seams that limit friction and irritation
Reinforced toes