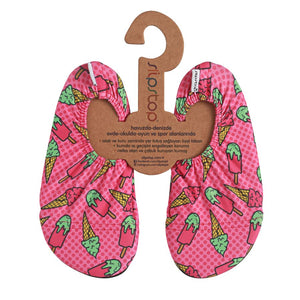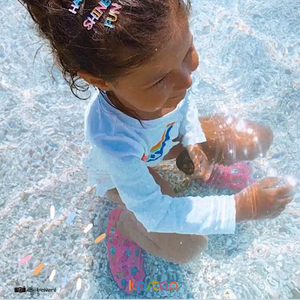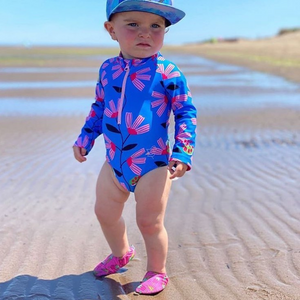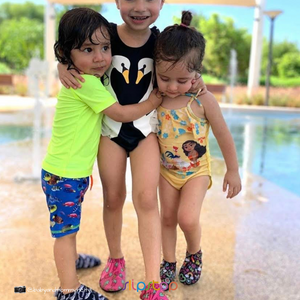 Chausson enfant SLIPSTOP® Ice Cream
Chausson enfant SLIPSTOP® Ice Cream - Crème glacée rose
Les chaussons polyvalents SLIPSTOP® Ice Cream imprimés rose à motif crème glacée permettent de protéger les pieds de votre enfant lors de vos sorties à la plage ou en camping.
Ils permettent de bouger confortablement et de marcher sur les plages de galets, les rochers, les copeaux de bois ou encore sur le sable chaud en toute sécurité.
Équipés d'une semelle antidérapante, les chaussures SLIPSTOP® Ice Cream sont composées sur le dessus d'un tissu certifié UPF 50+ qui sèche rapidement.
Elles sont parfaites pour protéger les pieds de vos enfants de manière ludique et colorée!
Légers . Flexibles . Confortables
Conçus pour tous les âges
91% polyamide 9%elastane
Faciles à enfiler
Coutures plates qui limitent la friction & les irritations
Pointes renforcées
**Cet article est en vente finale**
Kids SLIPSTOP® water shoes Ice Cream - Pink
Bursting with bright colors, you will be sure to stand out in these cool non-slip pink  SLIPSTOP® Ice Cream water shoes.
Perfect to bring camping, SLIPSTOP® Ice Cream multifunctional shoes will protect your little camper's feet all day long.
Great for protecting feet from germs in the shower, on pebble beaches or running from the campsite to the lake.
Their sun safe UPF 50+ protection fabric is both fast-drying and breathable for hours of outdoor safe play!
Light . Flexible . Comfortable
Designed for all ages
91% polyamide 9% elastane
Easy to put on
Tailored with flat seams that limit friction and irritation
Reinforced toes
 **This is a final sale item**