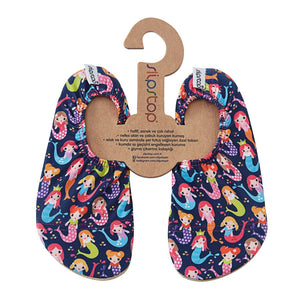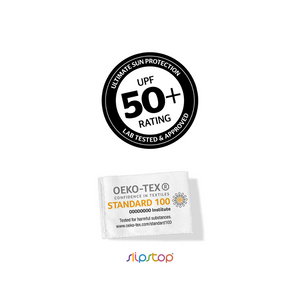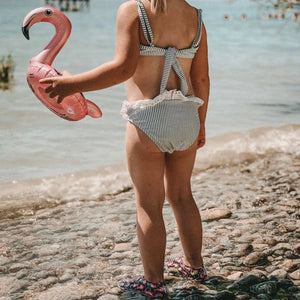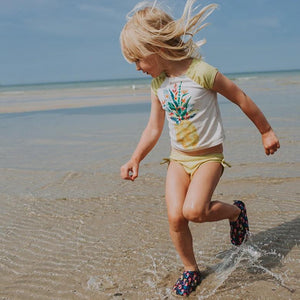 Chausson enfant SLIPSTOP® Mermaid
Chausson enfant SLIPSTOP® Mermaid - Sirène marine
Cette saison, permettez à votre enfant d'explorer en toute sécurité les fonds marins avec les chaussons aquatiques pour bébés SLIPSTOP® Mermaid à motif sirènes.
Grâce à leurs semelles antidérapantes et résistantes, ils permettent d'éviter les petites blessures aux pieds qui peuvent survenir au contact de galets, de coquillages pointus ou de petits cailloux en mer ou an eaux douces.
À la fois légers et souples, les chaussures de plage SLIPSTOP® Mermaid sèchent rapidement et se glisse aisément dans votre sac de plage ou de voyage.
Elles sont confortables à porter tout au long de la journée grâce à leurs coutures plates qui limitent le frottement, les irritations et procure la merveilleuse sensation de marcher nus pieds.
Chaussons à usages multiples
UPF 50+

Conçus pour tous les âges
91% polyamide 9% élasthanne
Faciles à enfiler
Pointes renforcées
**Cet article est en vente finale**
Kids SLIPSTOP® water shoes Mermaid - Navy
Splash into this season with SLIPSTOP® Mermaid water shoes for kids bursting with an all-over colorful mermaid print on a navy background.
Make SLIPSTOP® Mermaid shoes the ultimate travel accessory and add them to your holiday checklist.
Light, flexible and comfortable to wear, you can easily pop them in your suitcase.
Designed to keep you safe, their high-tech grippy soles will protect your feet on hot sand and pavement as well as prevent you from slipping on wet and dry surfaces.
Make planning for your next vacay that much easier with SLIPSTOP® Mermaid UV protection beach shoes!
Quick-drying . Breathable fabric
Designed for all ages
91% polyamide 9% élasthanne
Easy to put on
Tailored with flat seams that limit friction and irritation
Reinforced toes
 **This is a final sale item**