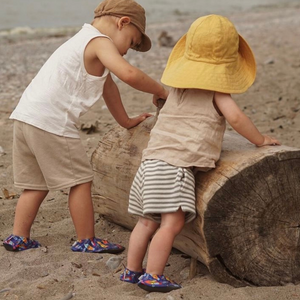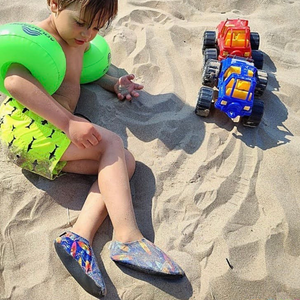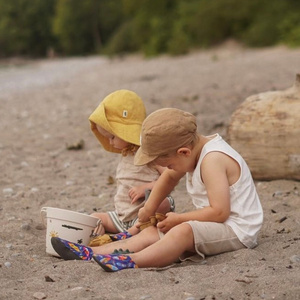 Chausson enfant SLIPSTOP® Miami Jr.
Chausson enfant SLIPSTOP® Miami Jr. - Planches de surf sur fond bleu
La chaussure d'eau pour enfants SLIPSTOP® Miami Jr, à imprimé planches de surf sur fond bleu est l'accessoire indispensable pour profiter des bienfaits des vacances au bord de la mer et faire de votre enfant un vrai petit surfer!
Elle est composée sur le dessus d'un tissu anti-UV certifié UPF 50+ à la fois léger et respirant qui sèche rapidement.
Sa semelle antidérapante et résistante à la chaleur permet d'éviter les glissades sur les surfaces mouillées et protège les pieds sur le sable chaud.
Dans l'eau comme sur les surfaces chaudes et glissantes, les chaussures de plage SLIPSTOP® Miami Jr. permettent à votre petit surfer de nager et s'amuser en toute sécurité comme s'il était pieds nus.
Chaussons à usages multiples
Légers • Flexibles
91% polyamide 9% élasthanne
Faciles à enfiler
Coutures plates qui limitent la friction & les irritations

Pointes renforcées
Kids SLIPSTOP® water shoes Miami Jr. - Surf boards on a blue background
This all-over tropical surf board print brings surfer cool vibes to these lightweight, slip-resistant SLIPSTOP® Miami Jr. beach shoes for kids.
Your beachy little surfer will love splashing around in these flexible, fast-drying and breathable water shoes.
Whether you are playing in the sand or riding the waves, SLIPSTOP® Miami Jr. shoes will keep your feet safe from the sun, hot sand, seashells and other little sea creatures.
UPF 50+
Designed for all ages
91% polyamide 9% elastane
Easy to put on
Tailored with flat seams that limit friction and irritation
Reinforced toes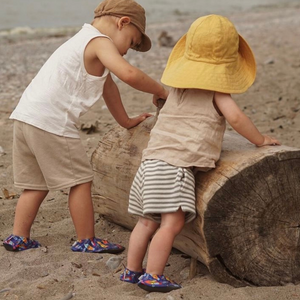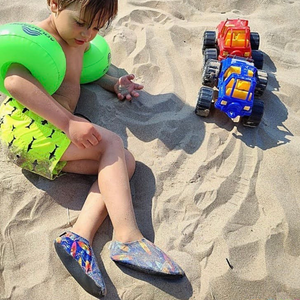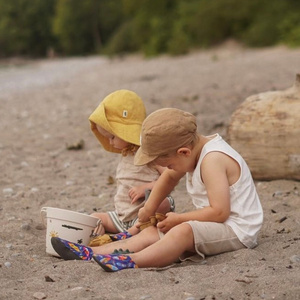 Excellent
Planning to take these slippers down to Cuba with us. Last summer our 1 year old spent half the summer in these slippers. Camping/pool. We loved them so much we bought our other three children a pair for this year.