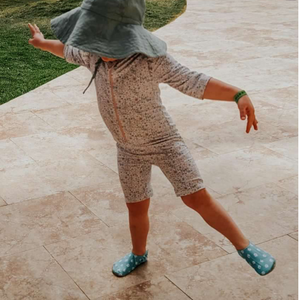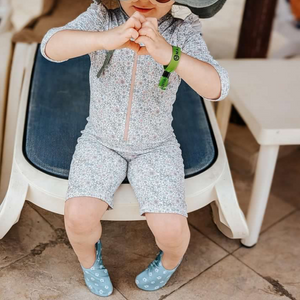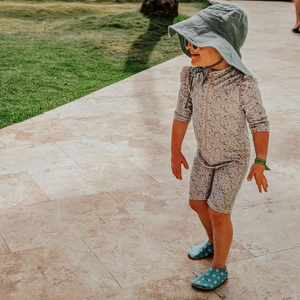 Chausson enfant SLIPSTOP® Minty Flowers
Chausson enfant SLIPSTOP® Minty Flowers - Fleurs blanches sur fond menthe glacée
La chaussure d'eau pour enfants SLIPSTOP® Minty Flowers à imprimé floral blanc est l'accessoire indispensable pour profiter des bienfaits des vacances au bord de la mer.
Elle est composée sur le dessus d'un tissu anti-UV certifié UPF 50+ à la fois léger et respirant qui sèche rapidement.
Sa semelle antidérapante et résistante à la chaleur permet d'éviter les glissades sur les surfaces mouillées et protège les pieds sur le sable chaud.
Dans l'eau comme sur les surfaces chaudes et glissantes, les chaussures de plage SLIPSTOP® Minty Flowers permettent à votre enfant de nager et s'amuser en toute sécurité comme s'il était nu pieds.
Chaussons à usages multiples
Légers . Flexibles . Confortables
91% polyamide 9% élasthanne
Faciles à enfiler
Coutures plates qui limitent la friction & les irritations
Pointes renforcées
Kids SLIPSTOP® water shoes Minty Flowers - White flowers on an icy mint background
SLIPSTOP® Minty Flowers water shoes for kids feature a fresh and vibrant white flower print on an icy mint background.
These shoes are designed to protect your little one's feet while they play in the water. Their soft floral print adds a touch of fun and style to these very practical shoes.
SLIPSTOP® Minty Flowers water shoes are lightweight, non-slip, UPF50+, quick-drying and designed for maximum comfort, making them a convenient choice for kids who like to play and explore.
UPF 50+
Multi purpose footwear
Quick-drying • Breathable fabric
91% polyamide 9% elastane
Tailored with flat seams that limit friction and irritation
Reinforced toes