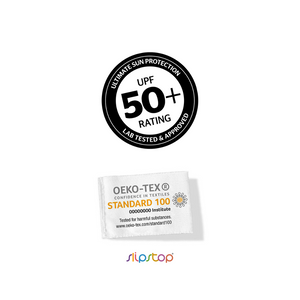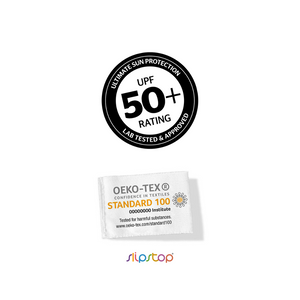 Chausson enfant SLIPSTOP® Salmon Hearts
Chausson enfant SLIPSTOP® Salmon Hearts -  Petits cœurs blancs sur fond rose saumon
Taillé dans un joli imprimé métallique d'écailles de sirènes , le chausson d'eau SLIPSTOP® Salmon Hearts pour enfants protège les pieds du sable chaud, des coquillages et des galets sur la plage en voyage ou au chalet.
Conçus pour la baignade, les chaussons souples SLIPSTOP® Salmon Hearts permettent à vos enfants de nager confortablement et de marcher sur différentes surfaces comme s'ils étaient pieds nus.
Profitez des beaux jours en toute sécurité avec les chaussures de plage SLIPSTOP® composés sur le dessus d'un tissu extensible certifié UPF 50+ qui sèche rapidement.
Semelles adhérentes & résistantes au glissement
Légers . Flexibles . Confortables
91% polyamide 9% élasthanne
Faciles à enfiler
Coutures plates qui limitent la friction & les irritations
Pointes renforcées
Kids SLIPSTOP® water shoes Salmon Hearts - Soft white hearts on a pink salmon background
SLIPSTOP® Sand Rainbows beach shoes for kids are the perfect solution for protecting your child's feet from germs, pebbles and seashells while they play in the water.
The soft sand color is accented with a fun rainbows print making them a stylish choice for your little one's water adventures.
SLIPSTOP® Sand Rainbows are lightweight, non-slip, UPF 50+ and quick-drying, making them a safe and comfortable choice for kids of all ages.
Whether you're on vacation, at the pool or in swim class, SLIPSTOP® shoes are both water-friendly and versatile!
UPF 50+
Designed for all ages
91% polyamide 9% elastane
Easy to put on
Tailored with flat seams that limit friction and irritation
Reinforced toes