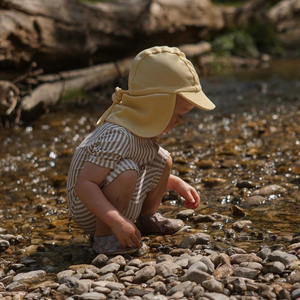 Chausson enfant SLIPSTOP® Sand Rainbows
Chausson enfant SLIPSTOP® Sand Rainbows - Arcs-en-ciel blancs sur fond sable 
Le chausson d'eau pour enfants SLIPSTOP® Sand Rainbows couleur sable à motif d'arcs-en-ciel blancs est l'accessoire indispensable pour jouer en toute sécurité aux abords de la piscine cette saison.
Leurs semelles antidérapantes aident à prévenir les glissades sur les surfaces mouillées.
Souples et ultra légers et extensibles, les chaussons de piscine SLIPSTOP® Sand Rainbows conservent leur forme lorsque mouillés et offrent une protection solaire efficace grâce à son tissu certifié UPF 50+.
Compacts, ils se glissent facilement dans votre sac de voyage. Un must pour vos prochaines vacances en famille!
Chaussons à usages multiples
Tissu respirant à séchage rapide
91% polyamide 9% élasthanne
Faciles à enfiler
Coutures plates qui limitent la friction & les irritations
Pointes renforcées
Kids SLIPSTOP® water shoes Sand Rainbows - White rainbows on a sand background
By the sea is where you'll want to be with our SLIPSTOP® sand Rainbows beach shoes for kids in sand color.
These non-slip water shoes feature an all-over print pretty white rainbows.
Crafted in fast-drying fabric with built-in UPF 50+ sun protection, SLIPSTOP® Sand rainbows shoes are super easy to swim in.
Their elasticated stretchy fit allows your little one to easily put them on and take them off as well as helps keep out sand and pebbles.
Perfect for hot Summer days spent at the beach or pool!
Multi purpose footwear
Light . Flexible . Comfortable
Designed for all ages
91% polyamide 9% elastane
Tailored with flat seams that limit friction and irritation
Reinforced toes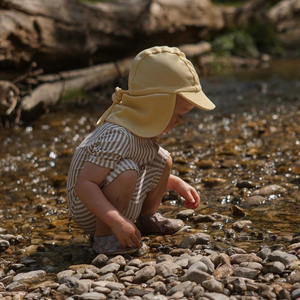 Best toddler water shoes
We love these to protect our little ones feet from the hot sand and sharp sea shells and they're also great for grip at the splash pad