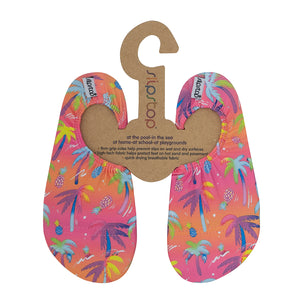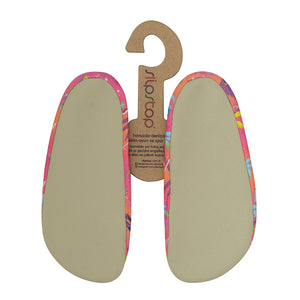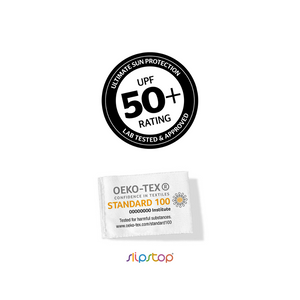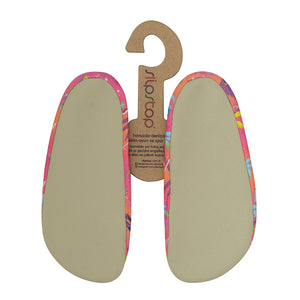 Chausson enfant SLIPSTOP® Tropic Jr.
Chausson enfant SLIPSTOP® Tropic Jr. - Palmiers tropicaux colorés
Conçus pour bébés et enfants de tous âges, les chaussons SLIPSTOP® Tropic Jr. aux notes tropicales aident à prévenir les chutes sur les surfaces mouillées grâce à leurs semelles antidérapantes et résistantes.
Indispensables pour s'amuser en toute sécurité au bord de la piscine, le bain ou la douche, ils sont confortables à porter et faciles à enfiler.
Extensibles, les chaussons SLIPSTOP® pour enfants Tropic Jr. conservent leur forme lorsque mouillés et offrent une protection solaire efficace grâce à leur tissu certifié UPF 50+.
Vous pourrez vous adonner au plaisir du "twinning" puisque ce joli imprimé tropical sur fond rose est également disponible en taille adulte.
Chaussons à usages multiples
Tissu respirant à séchage rapide
Légers . Flexibles 
91% polyamide 9% élasthanne
Coutures plates qui limitent la friction & les irritations
Pointes renforcées
Kids SLIPSTOP® water shoes Tropic Jr. - Colorful tropical palm trees
Step into summer with SLIPSTOP® Tropic Jr. water shoes for kids in a gorgeous tropical themed print.
Protect your little one from the dangers of slipping and falling with SLIPSTOP® Tropic Jr. non-slip shoes.
Their patented design is flexible, comfortable and easy to swim in. Certified sun safe UPF 50+, SLIPSTOP® Tropic Jr. shoes are multifunctional and can be worn in so many places.
Because twinning is always fun... why not stay safe and stylish together in matching SLIPSTOP® Tropic print for adults?
Quick-drying . Breathable fabric
Designed for all ages
91% polyamide 9% elastane
Easy to put on
Tailored with flat seams that limit friction and irritation
Reinforced toes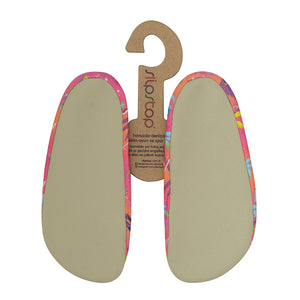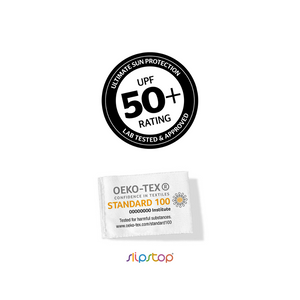 Repeat customer
My baby wore her shoes all summer last year, so there was no doubt in mind that I was getting them for both my girls this year!