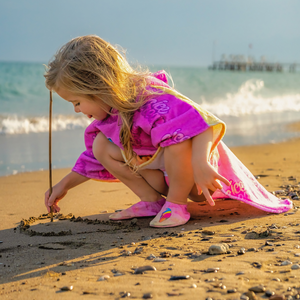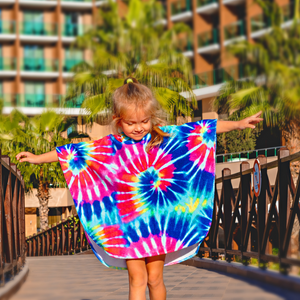 Poncho à capuchon SLIPSTOP® Hot Air Balloons
Poncho à capuchon Slipstop® enfant Hot Air Balloon - Montgolfières colorées sur fond arc-en-ciel
Le poncho pour enfants à capuchon SLIPSTOP® Hot Air Ballon est taillé dans un imprimé de montgolfières multicolores.
Muni d'ouvertures sur les côtés, le poncho de change ample et douillet SLIPSTOP® Hot Air Balloon facilite l'enfilage des maillots de bain à la pataugeoire ou les jeux d'eau. 
Sa ratine de coton absorbante permet de sécher rapidement vos tout petits à leur sortie de l'eau.
Offert exclusivement sur notre boutique en ligne, le cache-maillot SLIPSTOP® est un incontournable pour la période estivale.
Composition :  60% Coton  40% Polyester
Kids Slipstop® Hooded Poncho Hot Air Balloons - Colorful hot air balloons on a rainbow background
Poolside parenting just got that much easier with SLIPSTOP® Hot Air Balloons beach hooded poncho!
After splashing in the water, your kids will love to dry off in this O/S fun hooded wrap made of absorbent and super soft cotton blend.
Make changing in and out of their swimwear a breeze with SLIPSTOP® Hot Air Balloons changing poncho. 
Composition:  60% cotton   40% polyester