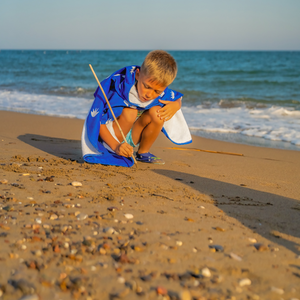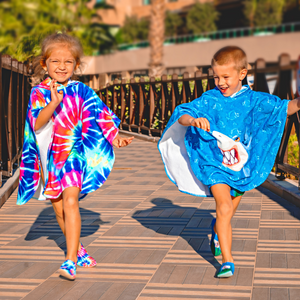 Poncho à capuchon SLIPSTOP® Ocean
Poncho à capuchon Slipstop® enfant Ocean - Créatures marines sur fond bleu royal
Le poncho de plage à capuchon ample SLIPSTOP® Ocean est doté d'un joli imprimé de petites créatures marines. 
Unisexe et offert en taille unique, le poncho de change permet de sécher rapidement vos tout petits et simplifie l'enfilage des maillots à la plage.
Facile à enfiler grâce à ses ouvertures sur les côtés, le cache-maillot Ocean pour enfants SLIPSTOP® est un accessoire amusant et fonctionnel pour la plage, la piscine ou la maison. 
Composition:  60% coton   40% polyester
Kids Slipstop® Hooded Poncho Ocean - Sea creatures on a royal blue background
SLIPSTOP® Ocean hooded surf poncho features an adorable sea creatures print.
Your little surfer will love to step into his super soft and absorbant  SLIPSTOP® Ocean beach wrap after his surfing session.
Open on all sides, this O/S changing towel will keep your kids feeling warm and cozy all day at the beach.
SLIPSTOP® Ocean towel poncho will be a total game changer at the beach this season!
Composition:  60% cotton   40% polyester