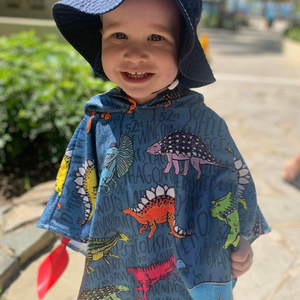 Poncho à capuchon SLIPSTOP® Texas Dinos
Poncho à capuchon Slipstop® enfant Texas Dinos - Dinosaures fluorescents sur fond bleu sarcelle
Le poncho de bain à capuchon SLIPSTOP® Texas Dinos est taillé dans un imprimé de jolis dinosaures fluorescents.
Offert en taille unique, il accompagne vos tout petits tout au long de la routine du bain.
Douce et apaisante sur la peau de votre enfant après l'heure du bain, la serviette poncho SLIPSTOP® est conçue de ratine de coton absorbante pour sécher rapidement vos tout petits de la tête aux pieds.
Elle s'agence parfaitement avec les chaussons antidérapants  Slipstop® Texas Dinos de la même collection.
Composition:  60% coton   40% polyester
Kids Slipstop® Hooded Poncho Texas Dinos - Neon dinosaurs on a teal blue background
Make bath time more fun with SLIPSTOP® Texas Dinos print hooded bath wraps.
Absorbent and gentle on your little one's skin, this O/S hoody towel will make drying off a breeze.
A clean routine must-have!
Match with SLIPSTOP® Texas Dinos non-slip water shoes!
Composition:  60% cotton   40% polyester