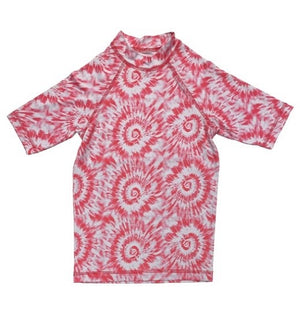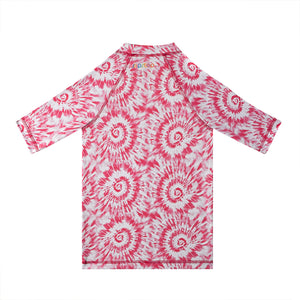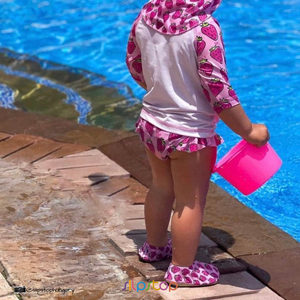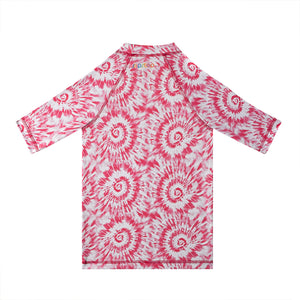 T-shirt protecteur enfant SLIPSTOP® Adele
T-shirt protecteur à manches courtes enfant Adele - Tie dye rose
Que ce soit pour leur premier cours de natation, une journée à la plage ou simplement des jeux d'eau dans la cour, votre enfant sera prêt pour toutes ses aventures d'été dans cet adorable maillot protecteur à manches courtes SLIPSTOP® Adele à motif tie dye rose.
Le t-shirt SLIPSTOP® Adele anti-UV certifié UPF 50+ assure une protection maximale tout aussi efficace étant sec ou mouillé.
Facile à enfiler, il est à la fois léger et confortable à porter grâce à ses coutures plates.
Offert exclusivement sur notre boutique en ligne, le maillot protecteur SLIPSTOP® Adele est un incontournable pour la période estivale.
91% polyamide 9% élasthanne
Tissu respirant à séchage rapide
Coupe ample, facile à enfiler par dessus la tête
Conserve sa forme lorsque mouillé
**Cet article est en vente finale**
Kids short sleeve rash guard Adele - Pink tie-dye
Brighten your little one's pool day with SLIPSTOP® Adele pink tie-dye rash guard for kids.
SLIPSTOP® Adele is crafted in a soft UPF 50+ stretchy fabric designed to keep your child protected from the sun's harsh rays.
This t-shirt features flat lock stitching to prevent rubbing against the skin and allows your little one to move around comfortably.
Guaranteed protection from the sun's rays in super cute style!
Quick drying, lightweight & breathable

Flexible & comfortable

Holds its shape when wet

Relaxed fit
**This is a final sale item**